After weight loss surgery meeting your protein need is extremely important. This guide to protein requirements for weight loss surgery patients gives you all the information you need including why you need protein, how much, and how you can reach your goals.
Protein Requirements for Weight Loss Surgery Patients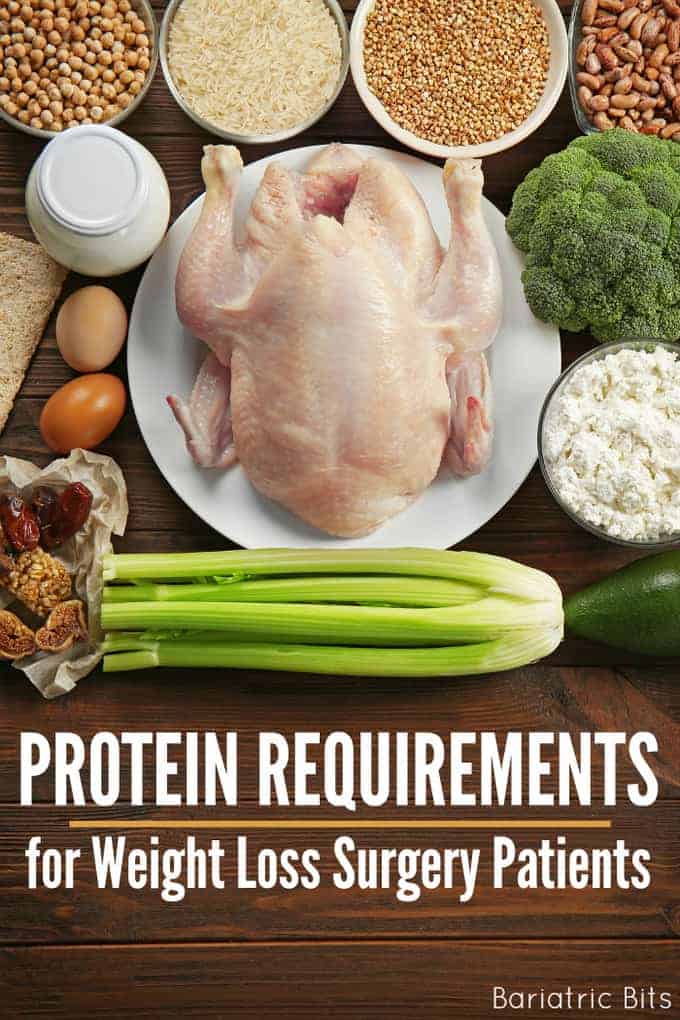 What is Protein?
Protein in the Body
Protein is a structural nutrient. The main job of protein is to maintain body tissue, hair, skin, eyes, and organs. Protein is found throughout our body. Our muscle contains much of the protein stores, however, there are many other vital roles the protein has.
Structure: muscle and skin
Energy: as a macronutrient, our bodies can use protein as a source of energy if not enough carbohydrates are available. Excess protein can also be stored as fat.
Hormones: substances that regulate body functions. An example would be insulin.
Enzymes: speed up the rate of different chemical reactions particularly in digestion and metabolism.
Antibodies: importance in our immune response.
Amino Acids
Proteins are made up of strings of amino acids. What is an amino acid? Amino acids make up protein structures. Think of them as blocks put together to create a structure. Some amino acids we can make in our bodies, known as nonessential amino acids. Additional amino acids we cannot make. These amino acids are referred to as essential amino acids. We need to consume these particular amino acids daily through our food.
Protein in our Food
There are two different types of protein in our food, Complete and Incomplete protein.
A complete protein contains all the essential amino acids our bodies cannot make on its own.
Animal tissue including chicken, fish, beef, pork, lamb, etc
Dairy products including milk, cheese, and yogurt
An incomplete protein is missing one or more of the essential amino acids we need. We can consume combinations of foods that contain incomplete protein in order to create a complete protein.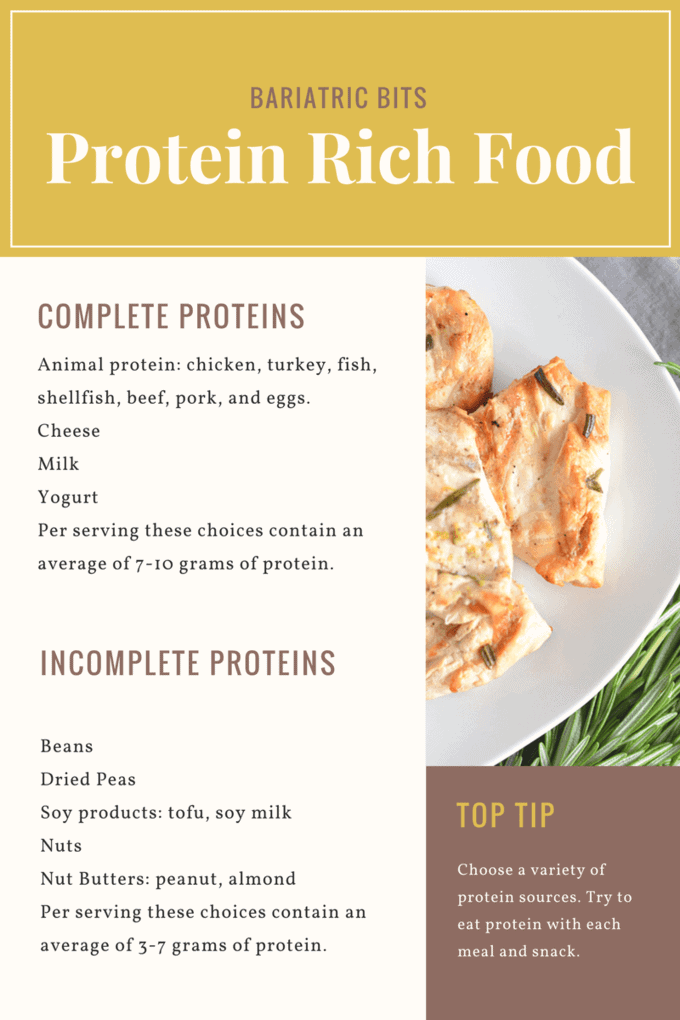 Protein Requirements after Weight Loss Surgery
Why do we need protein?
Our bodies require a certain amount of protein daily in order to maintain balance and to repair/replenish protein stores. This amount will vary from person to person. Protein need is based on body size and need. Certain individuals will have greater need particularly in times of growth, such as childhood and pregnancy.
If we do not provide our bodies with sufficient protein to meet our need we will break down protein stores in our body in order to fill in the gaps.
Weight loss, in general, also causes some muscle tissue loss. Our bodies do not break down only fat tissue during a calorie decline.
Protein is important after weight loss surgery to keep muscle tissue intact. In the case of quick weight loss, our body will break down muscle tissue for energy if we do not feed our bodies enough protein. It is important that protein requirements for weight loss surgery patients be followed after surgery.
How much protein does a patient require?
The average patient required between 60-80 grams of protein each day. After weight loss surgery protein often needs to be supplemented in order to consume this amount of protein because a patient can not physically eat enough protein containing food due to the small stomach size and restriction.
Common recommendations for protein consumption are to consume 2 oz of protein at each of three meals. In the early stages after surgery, this is usually the maximum amount of protein from food that can be comfortably consumed.
Two ounces of complete protein foods would give you approximately 14 gm of protein. For three meals this would equal approximately 42 gm per day. The average patient needs between 60-80 gm total per day.
Protein Supplements
You can see that protein supplements are important to make up the difference in protein intake. The most common supplement is a protein shake. Fluids are generally easier to consume and a quick way to get high doses of protein in the body. Unfortunately, protein does not come in a pill form!
The most common protein supplements are whey and soy protein, which comes as an isolate, concentrate, or blend form. Both whey and soy protein are considered complete proteins, so contain all the essential amino acids.
Many programs will recommend using isolate forms of protein supplements because isolates are the purest and most readily absorbed. This means that if a product states it provides 20 grams of protein you are in fact absorbing 20 grams of protein. Blends and concentrates provide great sources of protein, but may not be fully absorbed.
After weight loss surgery it's important to check at least periodically to make sure you are in fact consuming sufficient protein. An easy way to ensure you are eating enough protein is to make sure that you include a protein containing food at each meal and make sure you consume and finish the protein food first before moving on to side dishes.
Protein First!!
Don't forget about the other two macronutrients that you should eat:
Guide to Carbohydrate Intake after Weight Loss Surgery
Eating Fat after Weight Loss Surgery