After weight loss surgery many patients think that carbohydrate foods are something they need to avoid. This guide to carbohydrates after weight loss surgery will clear up any misconceptions and give you the information you need to consume balanced meals.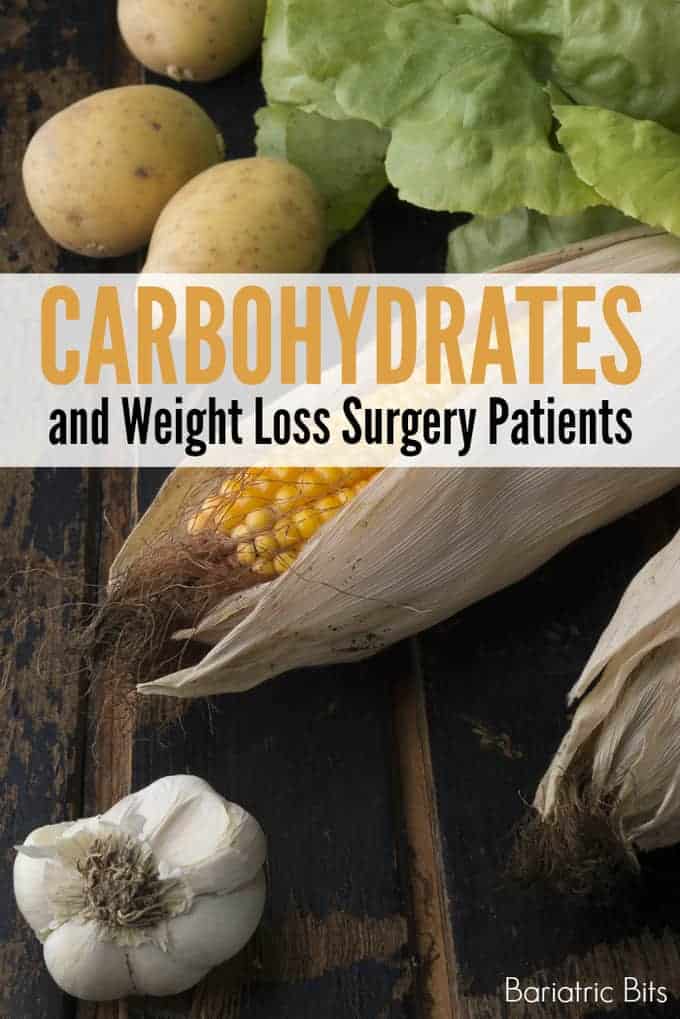 I hear all the time "I can't have carbs, they are evil"! I hear this from just about everyone regardless of whether they are a bariatric surgery patient or not. Well, are carbohydrates evil? The truth is no.
What are Carbohydrates?
Carbohydrates are actually essential to our lives. Carbohydrates along with protein and fat are macronutrients that serve as fuel sources for our bodies. Carbohydrates are actually the preferred fuel. It is very costly for the body to use protein and fat for energy because you are breaking up body tissue (you're eating yourself!).
Our brains can only use carbohydrates as fuel! Carbohydrates, along with the other macronutrients, are nutrients that our body cannot make and need to be supplied by our food.
How many carbohydrates should we eat after weight loss surgery?
About forty to fifty percent of our total food intake should come from carbohydrates. All carbohydrates break down to sugar in our body and this is the fuel that circulates through our bloodstream. The energy that flows through our blood is glucose, the most basic sugar. Yes, sugar!
The Recommended Daily Allowance (RDA) for carbohydrates is 130 grams per day. We do know that low intake of carbohydrates will cause a breakdown of protein. In weight loss surgery patients we stress protein to spare muscle tissue. A very low carb diet, such as a ketogenic diet, may stimulate muscle protein loss, which is exactly what we are trying to prevent.
A literature review published in Bariatric Times in 2013 recommended 90 grams for patients at 6 months and 130 grams for patients over 1-year post-surgery. At these levels, patients are able to achieve weight loss goals and maintain muscle mass.
Additional problems with low carbohydrate consumption:
Hypoglycemia can occur particularly in gastric bypass patients after the one year mark. This condition is generally a result of not consuming enough carbohydrates throughout the day. The solution is to combine protein and carbohydrates at each meal. This is very important for patients who have become regular exercisers. The body needs to refuel after physical activity.
Protein is needed to repair muscles and carbohydrates are needed to refuel. Patients still need to make sure they meet their protein requirement, but should not forget about carbohydrates.
Carbohydrates in Food:
Simple Carbohydrates also are known as "simple sugars". These carbohydrates are called simple because their sugar molecules are small, so not much digestion and breakdown is needed in order for these sugars to enter our bloodstream. These sugars, therefore, have a greater and quicker impact on blood sugar levels. Types: Glucose, Fructose, Galactose, Maltose, Sucrose, Lactose
Simple Sugar Foods:
milk/dairy products
some fruits and vegetables
processed flour and sugar products: candy, soda, snack cakes, pies, cookies and sugary drinks
Many times simple sugars are viewed as "bad" carbs. Of course, processed carbs like those in junk foods provide no nutrition benefit. Foods like dairy products, fruit, and vegetables provide a wealth of vitamins, mineral, and fiber that are essential to our health.
Complex Carbohydrates include starches and fiber. The carbohydrates in these foods are called complex because the size of the carbohydrate molecule is larger and takes longer to digest and use.
Complex Carbohydrate Foods:
whole grains
whole fruit
whole vegetables
beans and lentils
Food in this group will help us feel fuller longer because digestion is slower. Complex carbohydrates often provide more carbs per serving than foods that contain simple sugar. The impact on blood sugar is slower.
Amount of carbohydrates per serving:
½ cup Rolled Oats = 13 mg CHO
½ cup Sweet Potato = 20 gm CHO
5 Saltine Crackers = 12 gm CHO
1 small Apple = 15 gm CHO
1 cup Low Fat Milk = 12 gm CHO
Will carbohydrates make me gain weight?
Any excess of calories from either protein, carbs, or fat can lead to weight gain. Often carbohydrate foods are eaten in excess. Grain products, in particular, are easy to overeat, especially bread, rice, and pasta. After surgery, these foods often are difficult to eat anyway. Eventually, many patients can tolerate these foods in small quantities, but the fear is that if these carbs are consumed weight gain will occur.
In practice, I see weight gain not occurring because of an increased portion of rice, bread, pasta, fruit, or dairy products, but increased consumption of junk food and sugar-sweetened beverages.
This post was originally published on January 17, 2014. This post was updated in 2018.
Here is information about the two other macronutrients:
Eating Fat after Weight Loss Surgery
Protein Requirements after Weight Loss Surgery