If fat wasn't a three letter word many would say it's a "four" letter word in terms of nutrition. Fat like carbs gets a bad wrap. There is also a lot of confusion regarding what fat and how much to eat. This guide to eating fat after weight loss surgery hopefully will clear things up.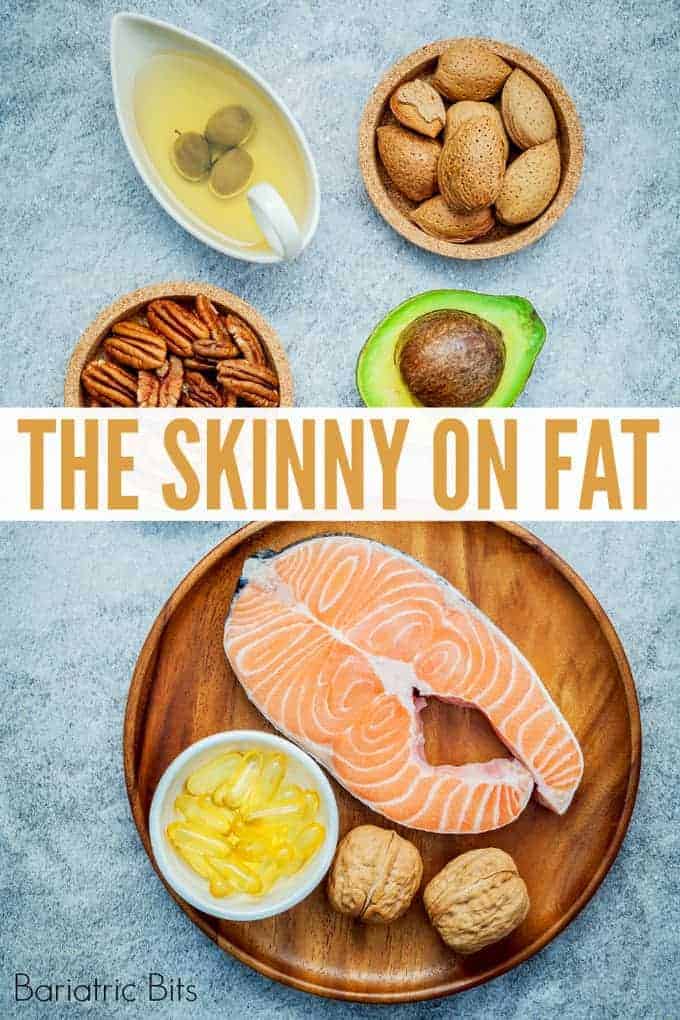 What is Fat?
Fat is a macronutrient just like carbohydrates and protein. Fat has a role to play not only in our bodies but also in our food.
Fat in the body:
Provides insulation and helps regulate our body temperature.
Provides cushioning to our organs.
Aids in the absorption of fat-soluble vitamins A, D, E, and K.
Energy source and storage.
Fat in our food:
Improved taste and mouth-feel.
Increases satiety: fat tasks longer to digest than carbohydrates and protein.
Provides energy: fat provides 9 calories per gram, which more than double that of carbohydrates and protein, which each provide 4 calories per gram.
Source of essential fatty acids: our bodies can not make omega-3 or omega-6 fatty acids, which have various roles in the body such as brain function, immunity, skin health, and heart health.
Types of fat in our food:
Saturated fat is found in foods such as beef, pork, chicken, processed foods, coconut oil, full-fat dairy products, and butter. This type of fat should be limited as it leads to fatty plaque formation in the body, which is the cause of heart disease.
Unsaturated fat mainly comes from olives, nuts, and seeds. Fish is also a good source of unsaturated fats. Unsaturated fat can help reduce cholesterol levels and heart disease risk.
How much fat should I eat after weight loss surgery?
Fat intake for anyone regardless of whether or not they have weight loss surgery should be no more than 25-30% of total calories. What does this mean? For example: if you eat 1400 calories per day, 30% is 420 calories. Remember there are 9 calories per gram of fat. Divide 420 calories by 9 and the result is 46 grams per day.
Saturated fat intake should be less than 10% of total calories.
See these examples:
Total Fat intake <30% of total calories:
1400 calories x 30% = 420 calories
420/9 = 46 grams
Saturated fat intake should be <10% of total calories:
1400 x10% = 140 calories
140/9 = 15 grams
You definitely want to track your protein intake, but I usually don't suggest that anyone tracks carbohydrates and fat. You can if you want, but it's really hard to get every number perfect every day. You will just be frustrated. If you choose healthy fats and try to limit the servings you should be within the recommended ranges. Enjoy eating, don't obsess over it!
Check out information on the rest of the macronutrients!
Protein Requirements After Weight Loss Surgery
Guide to Carbohydrates after Weight Loss Surgery