Anyone who chooses to have weight loss surgery doesn't expect to fail. The expectation is this will be the end of your weight loss struggles. Unfortunately, the journey is continuous and does not end once you have lost the weight and achieved your goal weight.
The journey isn't always smooth. There are always bumps in the road even for the most successful patient. If you find yourself veering off your path and your journey getting rocky here are some tips on how to get back on track after weight loss surgery.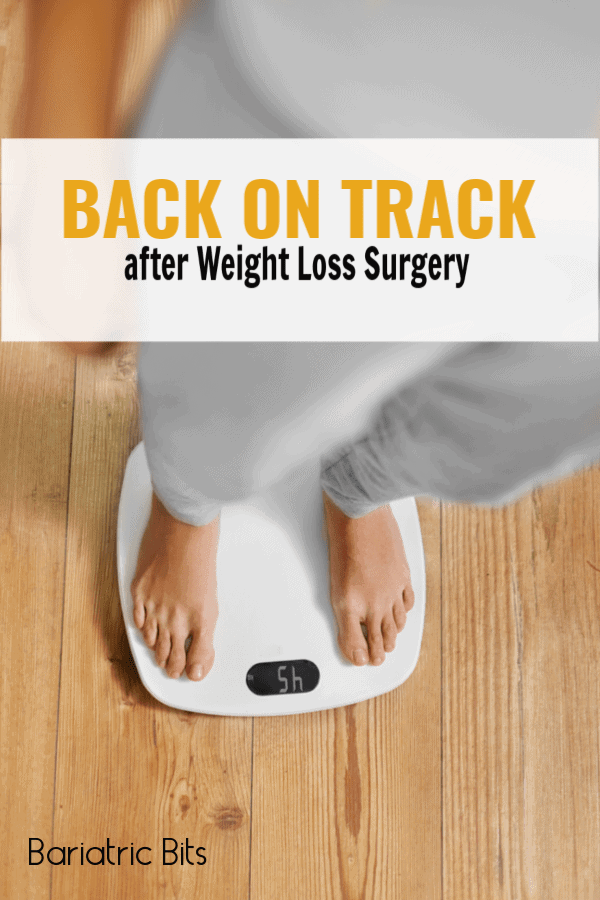 The first thing you need to do is figure out where you have gone off track.
What have you been eating?
The best thing to do is keep a food journal for a few weeks to see exactly what is and is not going into your mouth. When examining your food journal ask the following questions:
Are you eating protein at each meal? We stress this before your surgery. Protein helps fill you up and keeps you feeling fuller longer. Patients who are not consuming sufficient protein may also be breaking down muscle tissue. The less muscle you have the lower your metabolism, which makes weight gain easier.
Are you eating more starches (bread, pasta, rice)? Starches fill you up quickly and are calorie dense. Often when more starches creep in patients end up eating less protein, fruit, and veggies, but more calories.
Are you including vegetables and/or fruit at each meal? Fruit and vegetables are low in calories and rich sources of fiber. Fiber will help you also feel fuller longer. These food are often replaced of higher calorie, but less nutritious foods.
What are you drinking? fluids do not fill your stomach for a long period of time. Liquid calories really add up. Make sure your only drinking beverages that are calorie free. It's really eating to pack in a few hundred extra calories from a fancy coffee, fruit smoothie, or glass of wine.
Are you snacking between meals? First, find out why you are snacking. Are you really hungry or just looking for something to do? If you are hungry look at what you are eating during meals and increase protein and/or fiber if necessary. If you do need to eat a snack try to keep snacks less than 100 calories. If you are not really hungry you need to find an alternative activity to combat boredom.
Are you exercising? For weight loss and weight loss maintenance, it is recommended that you exercise at least 3 times each week for at least 45 minutes. Weight loss is, of course, more about what you eat then exercise, but the most successful patients I know exercise regularly. Quick weight loss will decrease muscle mass. Our bodies can not just lose fat without breaking down muscle. The problem is that muscle is what we call "metabolically active". What this means is that muscle requires energy even at rest. People who have higher muscle mass will require more calories making their metabolism higher. Less muscle = lower metabolism.
The second thing that you want to do is attempt to determine why you went off track in the first place.
When patients get off track and start gaining weight the first thing they often do is go straight to me or the dietitian in their surgery practice. Surgeon's and other health professionals will send you to us as well. We are of course the nutrition experts, however, the reason you may have gone off track may not have anything to do with food at all. The food or eating choices, although not great, may be the cause of your weight gain, but something else has likely caused you to make those choices.
I can't count how many times I have to tell patients that I can give them suggestions for better meals and snack choices, but if they don't get to the root cause of why they are not making these choices already they won't stay on track. They may be eating better, but they are still eating for reasons other than nourishment.
So, what are some reasons causes patients to get off track?
Unsupportive family and friends
I have heard so many stories from patients who struggled because family and friends chose not to be supportive of their efforts. Here are some examples:
significant others who insisted on eating out frequently
a spouse who did all the cooking and snuck in extra calories into his wife's food
a family member who brought trigger foods into the house
a spouse not sharing in childcare and house chores to free up time for their loved one to exercise
family members or coworkers becoming food pushers
Poor time management skills
Let's face it everyone is busy. Many of my patients are balancing work (sometimes multiple jobs), family, and school. There is often very limited free time to meal prep and exercise. Health may have been a top priority when the patient first had surgery, but years later their health crept further and further down on the priority list. You need to make yourself and your health a priority no matter what!
Stress
Stress is probably the most common issue. Stress can come from lots of places.
Financial stress may lead someone to have to work longer hours or work more than one job decreasing their self-care time.
Emotional stress often leads to stress eating. Many patients prior to surgery have a history of coping with stress through food. Eating when they are happy or most commonly sad or upset.
Bariatric surgery only changes the size of your stomach. Surgery does not change your brain. After surgery, you have the same job, same family, same spouse, same children, same problems. Surgery can you lead you to a healthier life, but not a completely new life.
So how do you fix this? I will always suggest that patients seek out the help of a mental health professional. A psychologist or psychiatrist can help you not only with stress management, but also help you work through barriers that may be caused by others around you.
Bariatrics is a team approach for the reasons I touched on. Your surgeon gives you the tool to lose weight. Your dietitian and psychologist give you the skills and strategies to use that tool to the best of your ability. You took the first step by choosing to have surgery. Make sure you use all the resources available to you to be successful. You don't have to take the journey alone. Using the help and resources available to you will help make your journey smoother. There might still be bumps in the road, but your team will be there to point you in the right direction.