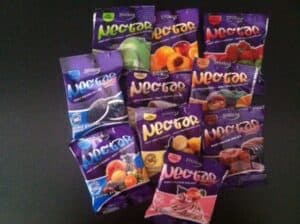 For the first post on Bariatric Bits I thought I would talk about my favorite protein powder. Patients always ask me for my recommendation. I always tell patients that everyone has different tastes and that what I like might not be what they like. Through trying different protein supplements I found that for me, milk shake type protein shakes are too heavy (and I have a normal sized stomach!) I prefer juice type shakes. That's where Nectar by Syntrax comes in.
Nectar by Syntrax come in 10 different flavors: Apple Ecstasy, Caribbean Cooler, Crystal Sky, Fuzzy Navel, Lemon Tea, Pink Grapefruit, Roadside Lemonade, Strawberry Kiwi, Twisted Cherry, and Wild Grape. Nectar contains 24 gm of Protein per scoop, 60 gm Sodium, 160 mg Potassium, and 100 calories. Nectar contains whey protein isolate, which is perfect for bariatric patients. Isolate is absorbed very well. Nectar is sugar free and contains acesulfame-K and sucralose as the sweetener. There are both natural and artificial flavors in the product. My favorite flavor is Lemon Tea mixed with Crystal Light Lemonade.
Syntrax also makes Nectar Naturals, which contain no artificial flavors, sweeteners, or colors. I haven't tried the Naturals line yet, but can't wait. Even though I love Lemon Tea I am not thrilled with the artificial ingredients. Also by Syntrax is Nectar Sweets: Strawberry Mouse, Vanilla Bean Torte, Chocolate Truffle, and Double Stuffed Cookie (which really tastes like oreos). Nectar also makes an unflavored protein powder under their medical line, which can be added to anything: food or liquids.
I always recommend sampling protein shakes before you buy a large quantity. My Bariatric Pantry sells a sample pack containing 10 individual samples for $18.99.