Social situations involving food occur whether you have had weight loss surgery or not. After weight loss surgery though, parties and family gatherings involving food can be a source of anxiety. Below are 7 steps to surviving social situations after weight loss surgery.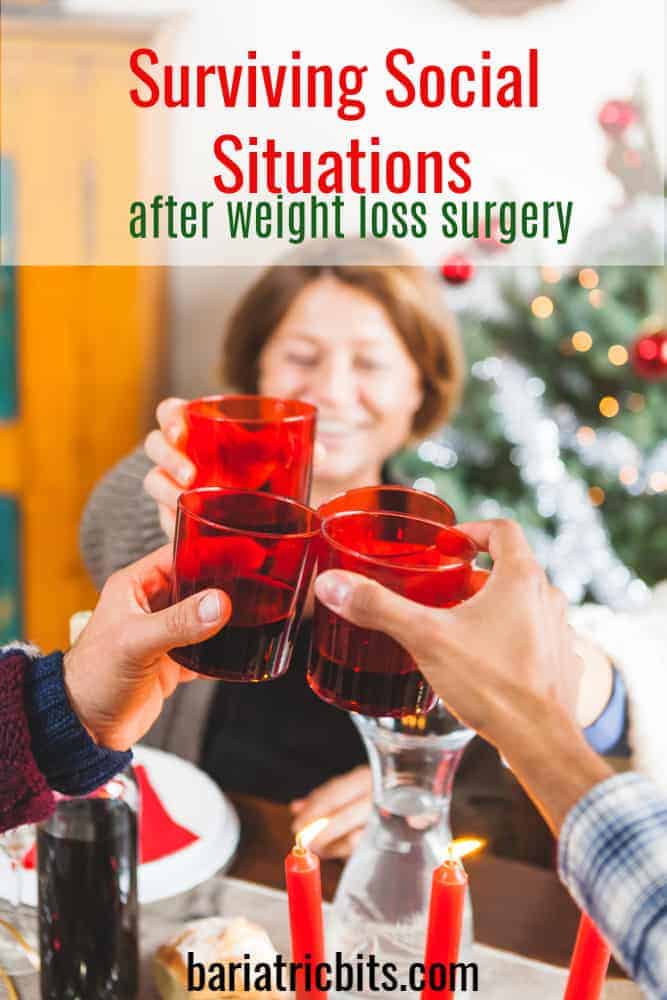 Plan Ahead
Ask the host what types of food will be served if you are able and feel comfortable doing so. This information will help you plan out your day and decide whether or not you need to eat at home or bring something with you. Offering to bring a dish that you know you can eat will not only help you but help the host.
Follow your Normal Routine
Do not skip meals or eat less to "make" room for the party. Going to a party on an empty stomach will likely lead to over-eating. You will end up still taking in more calories than you need and run the risk of over-filling your stomach. After weight loss surgery over-filling your pouch almost always leads to vomiting. Nothing ruins a celebration more than ending up sick in the bathroom!
Survey the Scene
Check out all the foods that are offered at the event and then go back and choose only the best choices for you. Don't feel obligated to try everything offered. Remember protein first, then fruits and veggies! Choose foods that are worth the calories.
Grab a Small Plate
If you have a choice of plates pick the smallest option. You cannot fit a lot of food on a small plate. You will need to make a choice as to which foods can take up the limited real estate on your plate and in your stomach. When you're finished get rid of the plate, so you aren't tempted to add anything else to it.
Carry a Drink in your Hands
Sip water throughout the event if eating choices are not right for you. Also, carrying something in your hands makes it difficult to hold a plate and a fork!
Calorie Free Liquids
Drinks can add up in unwanted calories. Water and other calorie-free liquids are your best option. Alcoholic beverage consumption may be something your surgeon recommends avoiding. If you are permitted alcoholic beverages remember that your tolerance may be lowered.
Do Not Sit or Stand Near the Food
Try to position yourself as far away from the food as possible. The more time you spend sitting or standing near food the more likely you will be tempted to pick at it. Little bites over a long period of time will add up and lead you to eat more than you plan.
The point of social gatherings is spending time with family and friends. Unfortunately, in our society, we put food as the focus. It's not about the food. Repeat this over and over until it sinks in!
This post was originally published 12/2013 but has been updated.
Other posts you may enjoy:
Problematic Foods After Weight Loss Surgery