I have been a dietitian/nutritionist with bariatric surgery centers for a long time. Over the years I have heard many false statements regarding nutrition, especially regarding protein. Today I am going to clarify some of the misconceptions about protein and bariatric surgery.
The public really does not always understand nutrition.Much of the information patients receive comes from the media, family, or friends, which many times are incorrect. Below are some of the statements that I often hear and have to clarify.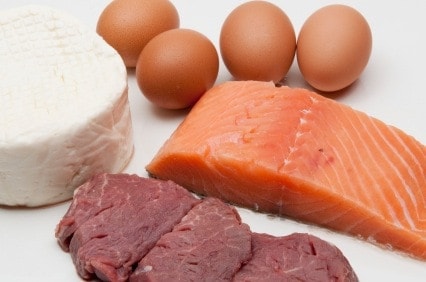 Misconceptions about Protein and Bariatric Surgery
"If you eat too much protein it turns to carbohydrates."
I read this the other day on Facebook and nearly had a heart attack. This statement prompted me to write this post. The patient was supposedly told this by her surgeon and/or nutritionist. I really hope not! Frankly, I think this person misheard or misunderstood. Carbohydrates, Fat, and Protein are all different types of macronutrients. Each serves a different purpose in the body. The one common job though, is that each is a source of energy. When we consume too much total energy, whether from excess protein, carbohydrate, or fat, are bodies will store the excess as fat. We have limited storage for carbohydrates and protein, but fat storage is unlimited. So, bottom line: excess protein will be stored as fat.
"Any protein supplement I can find is o.k."
The American Society for Metabolic and Bariatric Surgery recommended in their nutrition guidelines, published in 2008, that when protein supplements are the sole source of protein, as in the early post-surgery period, the source is complete and have a high protein digestibility corrected amino acid score (PDCAA). The highest PDCAA score is 100. Milk (whey/casein), eggs, and soy all have a score of 100 and are all complete proteins.
Collagen lacks tryptophan one of the nine indispensable or essential amino acids. Collagen is an incomplete protein source with a lower PDCAA score. I have had patients ask about the protein shots on the market. Many are made from collagen or other protein blends. These products promise a lot of protein in a small portion, however, they may not actually provide the amount of protein promised.
Tip: Look at the ingredient list of the protein supplement. Isolate and concentrates of whey, eggs, or soy have the best absorption, whereas blends may not. The amount of protein absorbed by protein blends depends on the protein sources in the blend and the concentrations of each type of protein. Isolates are a better choice.
"Once I am recovered I don't need to worry about protein."
Protein is always important post-operatively whether you are 3 weeks out or 3 years out from surgery. The protein requirement as recommended by ASMBS should be between 1.0-1.5 gm/kg IBW (Ideal Body Weight). This means that even when you reach your ideal body weight you still need slightly more protein than the normal RDA for protein of 0.8 gm/kg of body weight.
"I can get protein from the cheese that coats Doritos."
I only heard this said once, but still need to clarify it. You can obtain protein from a variety of sources, however, the best sources are complete proteins found in meats (beef, chicken, turkey, fish, etc), milk, cheese, yogurts, eggs, and soy. Even though Doritos do have a cheese-like substance on them they are not a good source of protein.
"Fruit contains protein."
Now, this statement I have heard more than once. Fruit is actually the only food group that does not contain protein. Small amounts of protein are found in grains and vegetables. Protein is found in large amounts in dairy and meats.
"I don't eat meat (red meat) so I can't get my protein."
My answer has two parts:
#1 Often when I discuss "meat" with a patient they say "well I don't eat meat", but after further discussion, I find out that a lot of people think only red meat is "meat". However, any meaty tissue from an animal (land, sea, or air) is meat.
#2 There are other good sources of protein other than animal flesh. Of course, some are still products of animals such as milk, cheese, and eggs. Plant-based sources include soy, nuts, and beans.
"Once I can eat regular food I don't need the protein shakes any longer."
This depends on how much protein you can eat from regular food. In my experience, it may take a long time for a patient to be able to consume 60-80 gm of protein every day from just food. Until that time an extra protein supplement is needed. The extra protein could be supplied by a shake, protein bar, or other protein food consumed sometime during the day. When you fill up quickly and stay full, bars and food may not be the best choice, whereas liquids are easier to consume.