Soft food stages after weight loss surgery can be difficult to navigate because no adult that I know wants to eat mushy or pureed food. This is why I often suggest that patients eat common foods that happen to be a soft/pureed consistency. Refried beans are one of these foods.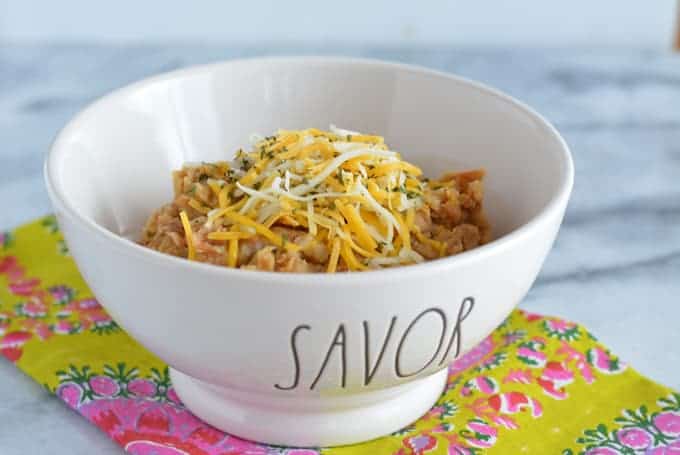 The most important nutrient for you to consume after weight loss surgery is protein. If you read Protein Requirements for Weight Loss Surgery Patients you will know just why protein is so important. In a nutshell, quick weight loss will affect your muscle tissue if you don't consume enough protein. This is why we stress this so much after bariatric surgery.
If you don't love animal protein or aren't excited about pureeing foods like chicken or fish beans are a great alternative. Beans are a good source of protein. Beans do not have as much protein per serving as a piece of chicken does, but in a day of eating the protein from a variety of sources will add up.
You can purchase canned refried beans that you simply heat up, but I prefer homemade so I can control the ingredients.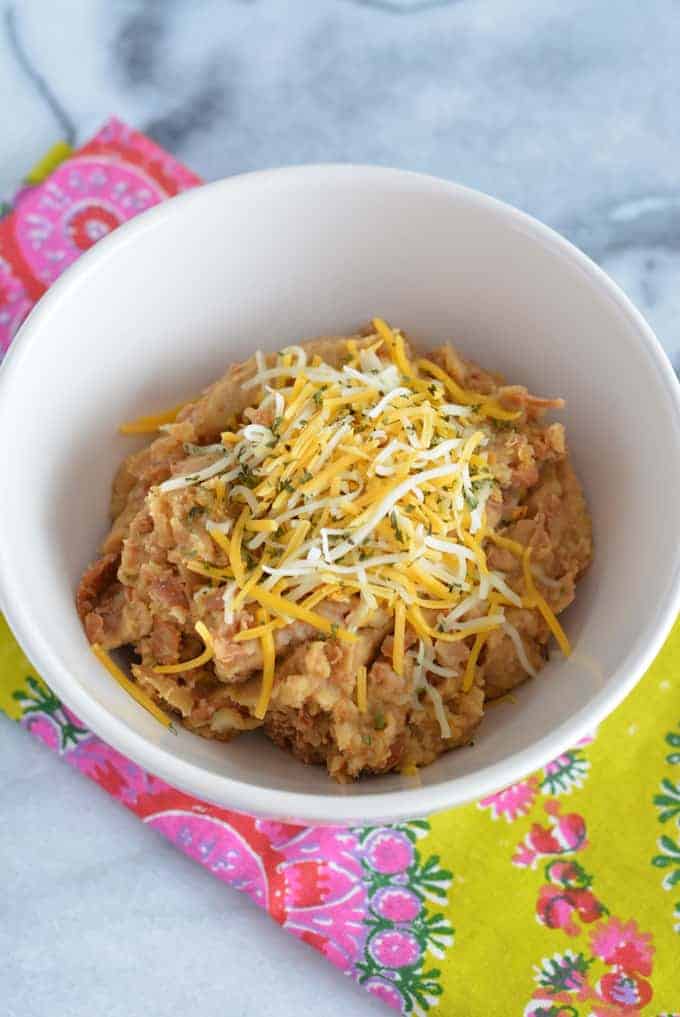 How to make low-fat refried beans:
Use pinto beans. Canned are fine, but if you want to use dried go right ahead.
Place beans into a colander to drain off the juice and then rinse them under water to rinse off the rest of the juice from the can. This will help decrease the salt content of your recipe.
If you wish to use fresh garlic and onion you certainly can. I use garlic powder and onion powder only for patients who need a really smooth consistency. Since you don't have to blend the refried beans you may have pieces of garlic or onion that don't digest well. In later stages, you can absolutely use fresh.
If using fresh garlic and onion I would use just 1 clove of garlic and about 1-2 tablespoons of finely diced onion.
If the refried beans are too thick add more broth.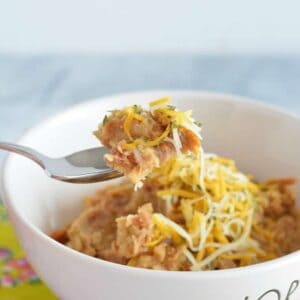 Low-fat Refried Beans
Refried beans are a perfect soft food for patients following bariatric surgery.
Ingredients
Olive Oil spray

1

can pinto beans

drained and rinsed

1

cup

vegetable broth

¼

tsp 

garlic powder

¼

tsp 

cumin

¼

tsp 

chili powder

¼

tsp 

onion powder

⅓

tsp 

cilantro
Instructions
Spray a saute pan with olive oil spray.

Add rinsed and drained pinto beans to the saute pan and fry for 1-2 minutes.

Pour broth into saute pan along with garlic powder, cumin, chili powder, and onion powder.

Bring the pinto beans to a slow boil. Continue to boil until broth is reduced by half (about 3-5 minutes).

Using a potato masher mash the pinto beans until smooth. You may also use a blender.

Garnish with cilantro.

Top with shredded Mexican Cheese if desired.
Nutrition
Serving:
1
/2 cup
Calories:
85
kcal
Carbohydrates:
14.3
g
Protein:
5.9
g
Fat:
0.8
g
Saturated Fat:
0.2
g
Polyunsaturated Fat:
0.5
g
Trans Fat:
0
g
Cholesterol:
0
mg
Sodium:
211.5
mg
Fiber:
4.4
g
Sugar:
0.6
g
Tried this recipe?
Tag #bariatricbits!
For extra protein, you can top the beans shredded Mexican or Cheddar cheese. Look for cheese made with part-skim milk for a lower fat choice.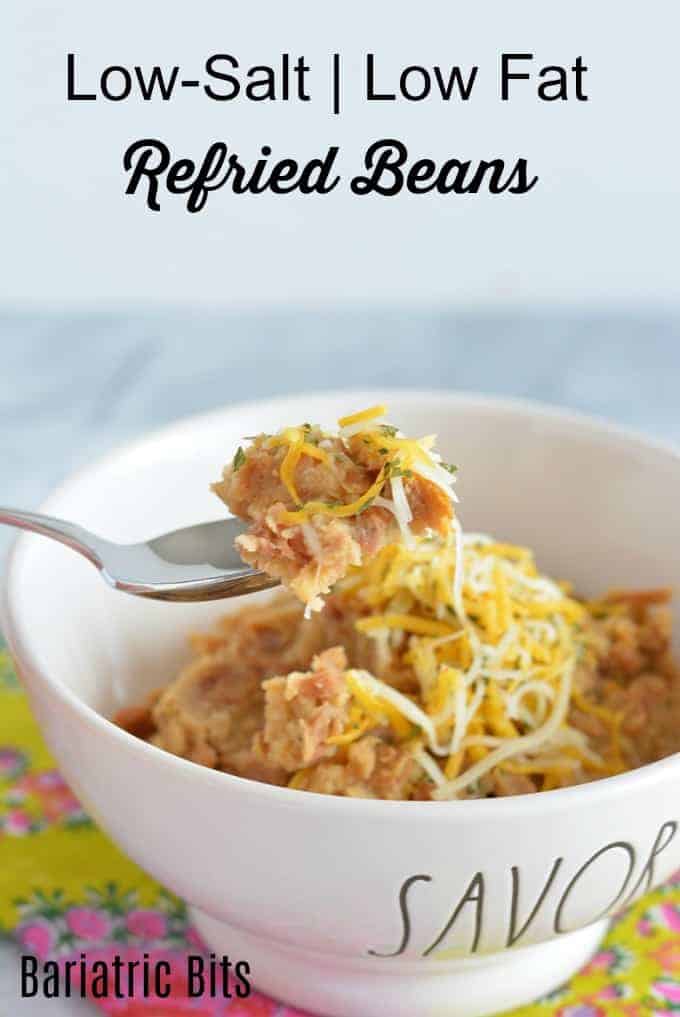 Items you may need to make low-fat refried beans: (affiliate links)
Need other soft food recipes?