Holiday meals can be a challenge when you're trying to lose weight. Holiday's can be especially difficult if you just had weight loss surgery. These Cranberry Sage, & Gruyere Turkey Meatballs are perfect for you if you are in the soft food stage after weight loss surgery.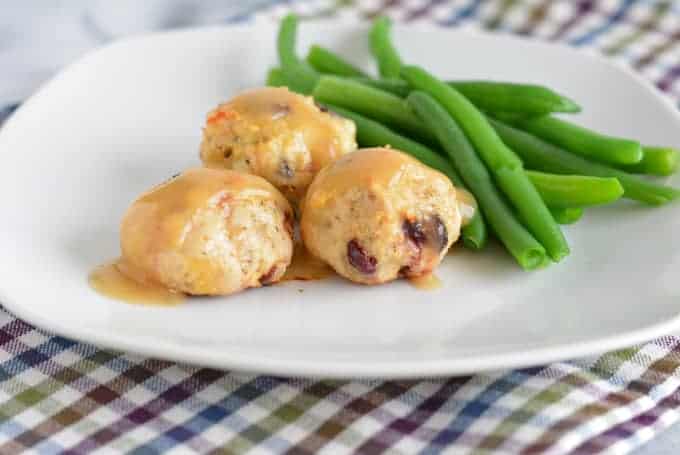 Turkey can be dry if it's not cooked right. After weight loss surgery dry meats are often not tolerated well. No one wants to feel sick or worse get sick at a holiday gathering. Ground turkey is softer and often better tolerated. This turkey meatball recipe combines all the flavors of Thanksgiving wrapped into one protein-rich ball.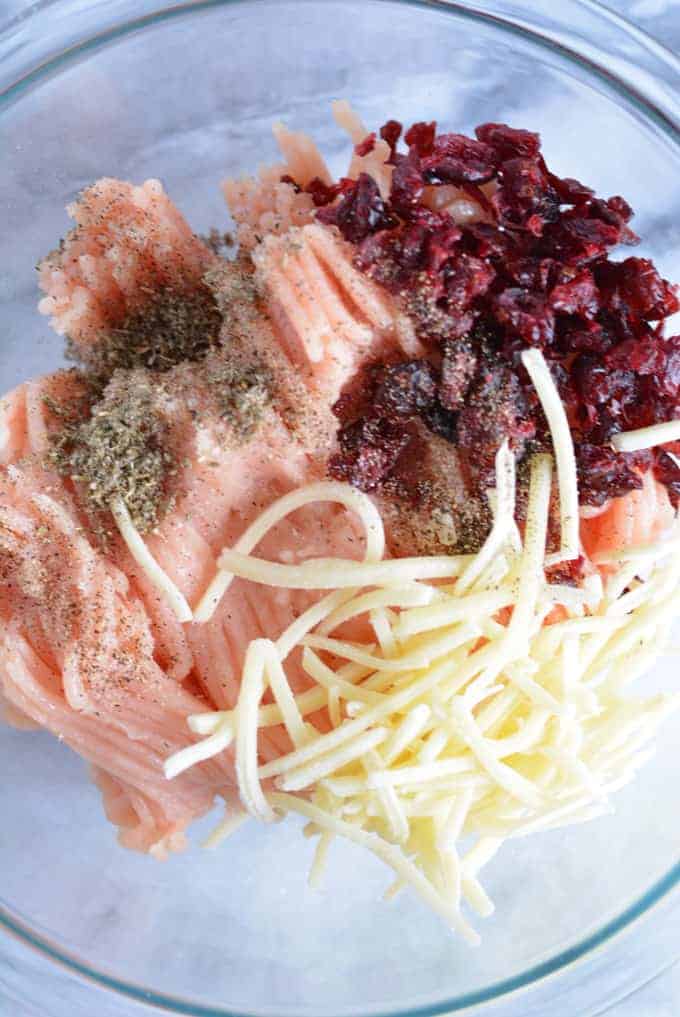 I used extra lean ground turkey. If you need more moisture you can get the lean ground turkey. The difference is that the extra lean has less fat than lean. Yes, this means fewer calories, but also less moisture. You may need the extra bit of fat to make the meat moister.
If you are afraid of the dried cranberries having too much sugar, you can get no sugar added or just leave them out. Each turkey meatball only has a few cranberries anyway, so shouldn't be an issue.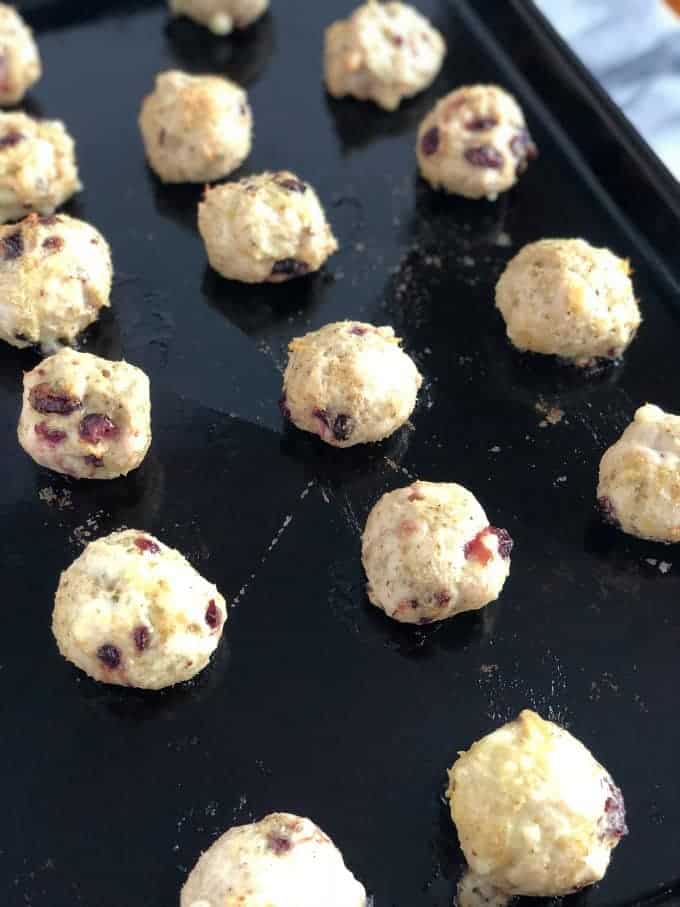 Make sure you spray your sheet pan with cooking spray so the turkey meatballs don't stick.
Print
Cranberry, Sage, & Gruyere Turkey Meatballs
Yield 16 meatballs
Thanksgiving dinner right after weight loss surgery can be a challenge.  These turkey meatballs filled with cranberry, sage, and Gruyere are perfect for patients to eat after weight loss surgery, especially during the soft food stage.
Ingredients
1 pound lean ground turkey
1/3 cup breadcrumbs, plain
1 egg
1/3 cup Gruyere, shredded
1/3 cup dried cranberries, no sugar added
Pinch of salt
1/8 teaspoon black pepper
1/4 teaspoon dried sage
Prepared turkey gravy
Instructions
Preheat oven to 350 degrees F.
Coat a sheet pan with olive oil spray.
Combine turkey, gruyere, cranberries, breadcrumbs, sage, salt, and pepper.
Form into balls using about 1 1/2-2 tablespoons of the meat mixture to make 1-1/2 ounce meatballs.
Place turkey meatballs on a prepared sheet pan.
Bake for 15-20 minutes or until meatball reach 165 degrees F.
Serve with homemade or prepared turkey gravy.
Notes
For more moisture bake meatballs for about 10 minutes in the oven then transfer to a saucepan and cover with gravy. Heat the meatballs in gravy for the remaining 10 minutes or until cooked through.
Courses Main Dish
Nutrition Facts
Serving Size 3 meatballs
Amount Per Serving

Calories 172

% Daily Value

Total Fat 4.6 g

7%

Saturated Fat 1.8 g

9%

Unsaturated Fat 2.3 g

Cholesterol 79.1 mg

26%

Sodium 185.1 mg

8%

Total Carbohydrates 11.7 g

4%

Dietary Fiber 0.8 g

3%

Sugars 6.8 g

Protein 21.4 g

43%
* Percent Daily Values are based on a 2,000 calorie diet. Your daily values may be higher or lower depending on your calorie needs.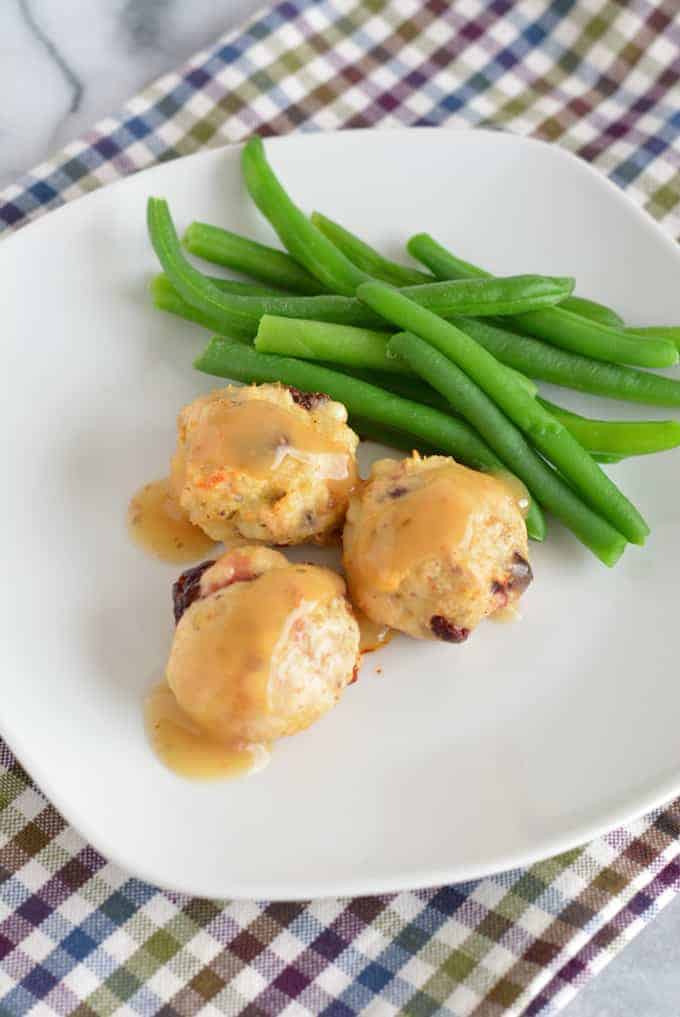 Other soft food recipes you may enjoy!
Creamy Chicken Casserole with Butternut Squash & Apples
Items you may need to make Cranberry Sage Gruyere Turkey Meatballs: