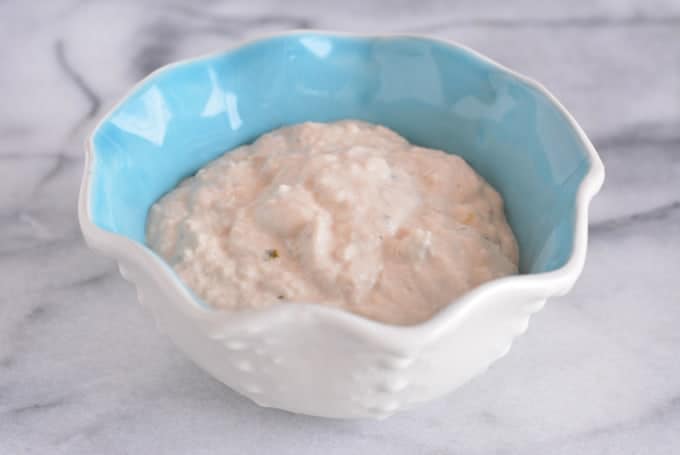 Classic pureed tuna salad is perfect for weight loss surgery patients following surgery. This recipe is not only great when you need to eat pureed food, but can also be used in the soft food stage and beyond.
Most adults aren't super excited by the idea of eating pureed food. Regardless of the reason, we associate pureed food with baby food. My kids spit out baby foods and refused to eat it. What if I told you that you could eat normal adult food that was pureed and it wouldn't be gross?
How many of you eat tuna? You either love tuna or hate tuna. For those of you who like tuna, you can incorporate tuna salad into your diet during the pureed food stage. Tuna salad is normally soft and with just a few pulses in a food processor can be pureed into a smoother consistency.
In the past ten years, only a handle full of patients has not made a face when I discussed the pureed diet stage after weight loss surgery. Most adults can't bring themselves to eat pureed food. My go-to suggestions have always been tuna salad and chicken salad. These choices are already pretty soft. All you need to is make sure the meat is shredded so there are no chunks.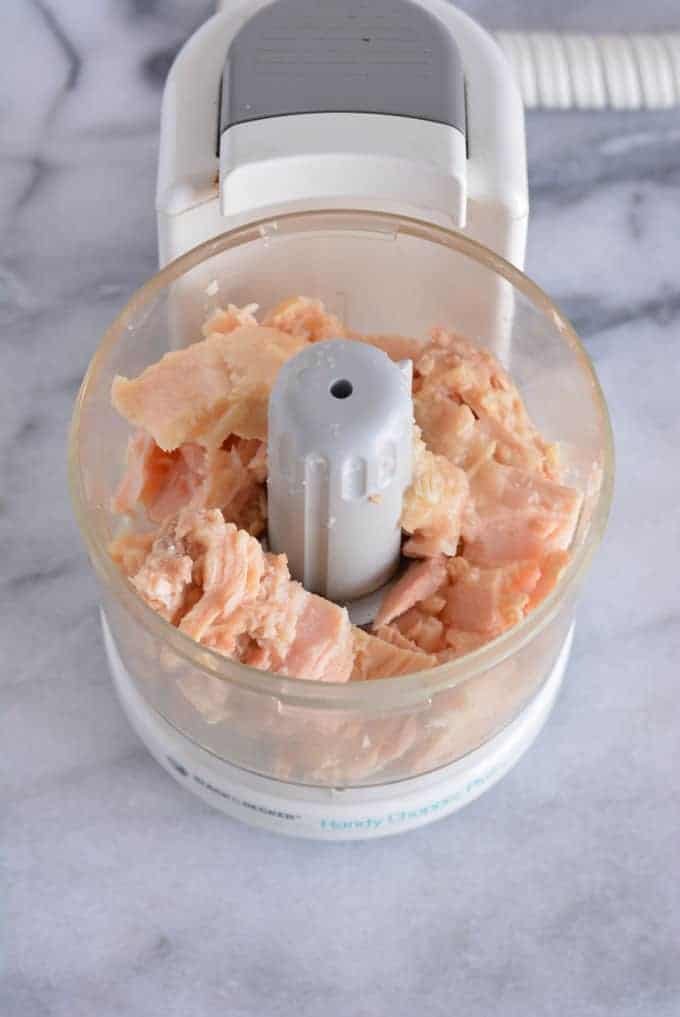 Everyone asks about the mayo. Most patients think they can never eat mayonnaise after surgery. Sure we encourage lower fat choices, but let's face it how much tuna or chicken salad are you really going to eat in one sitting? Not much, so I don't expect a ton of mayo to be in a ¼ cup of food! Of course, there are lower fat varieties that you can use or use ½ mayo and ½ yogurt to lower the fat content.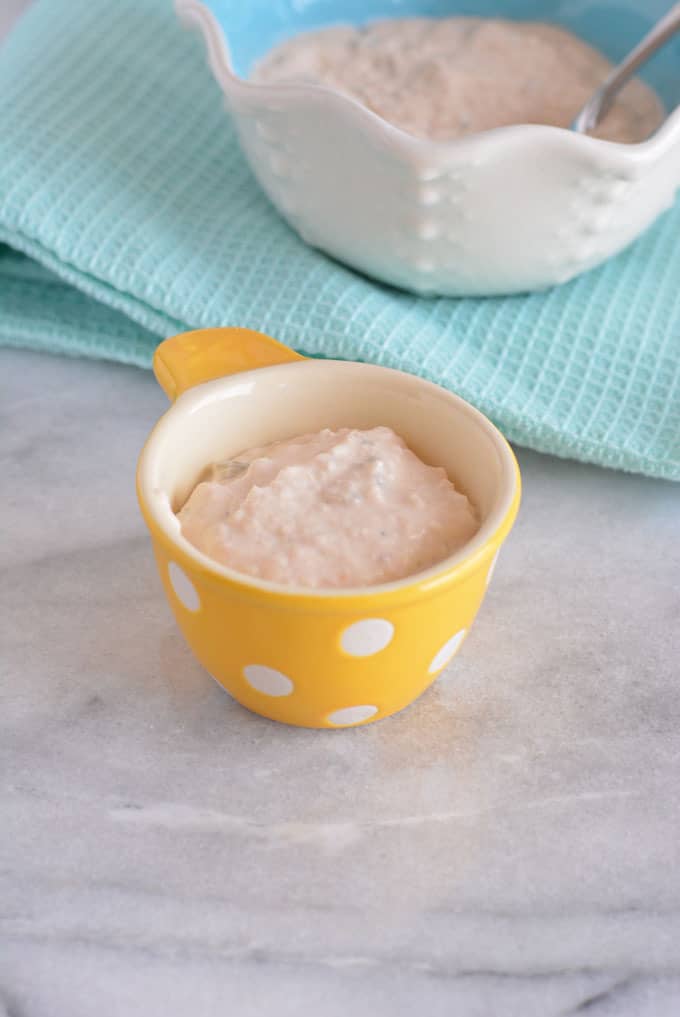 Tips for Classic Pureed Tuna Salad
Greek of Icelandic yogurt can be used to increase the protein and decrease the fat content of the tuna salad.
Use tuna packed in water, not oil, for a lower fat meal.
You can add some of the water from the can to help puree the tuna.
Any herbs and spices can be used to season the tuna salad. You don't have to stick with just salt and pepper.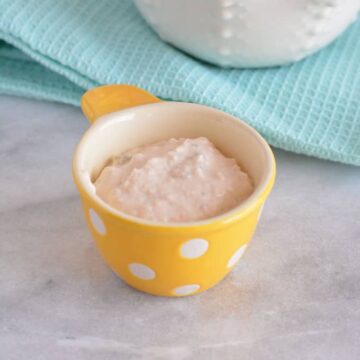 Classic Pureed Tuna Salad
Classic tuna salad pureed for post-surgery weight loss surgery patients. Perfect for the pureed and soft stages.
Ingredients
1

6 oz. can tuna packed in water

2

teaspoons

relish

1-2

tablespoons

low-fat mayonnaise

2

tablespoons

plain Greek or Icelandic Yogurt

I used Siggi's

Salt and pepper to taste

if desired
Instructions
Place tuna chunks and relish in a small food processor.

Pulse tuna until the meat is shredded.

Transfer shredded tuna/relish mixture into a mixing bowl.

Combine mayonnaise and yogurt with the tuna mixture.

Mix to combine all ingredients.

Season if desired with salt and pepper.

Serve in ¼ cup (2 oz) portions.
Nutrition
Serving:
1
/4 cup
Calories:
78
kcal
Carbohydrates:
1.7
g
Protein:
10.5
g
Fat:
2.9
g
Saturated Fat:
0.6
g
Polyunsaturated Fat:
2.1
g
Trans Fat:
0
g
Cholesterol:
19.3
mg
Sodium:
104.9
mg
Fiber:
0
g
Sugar:
1.1
g
Tried this recipe?
Tag #bariatricbits!
Products you may need (Amazon Affiliate Links)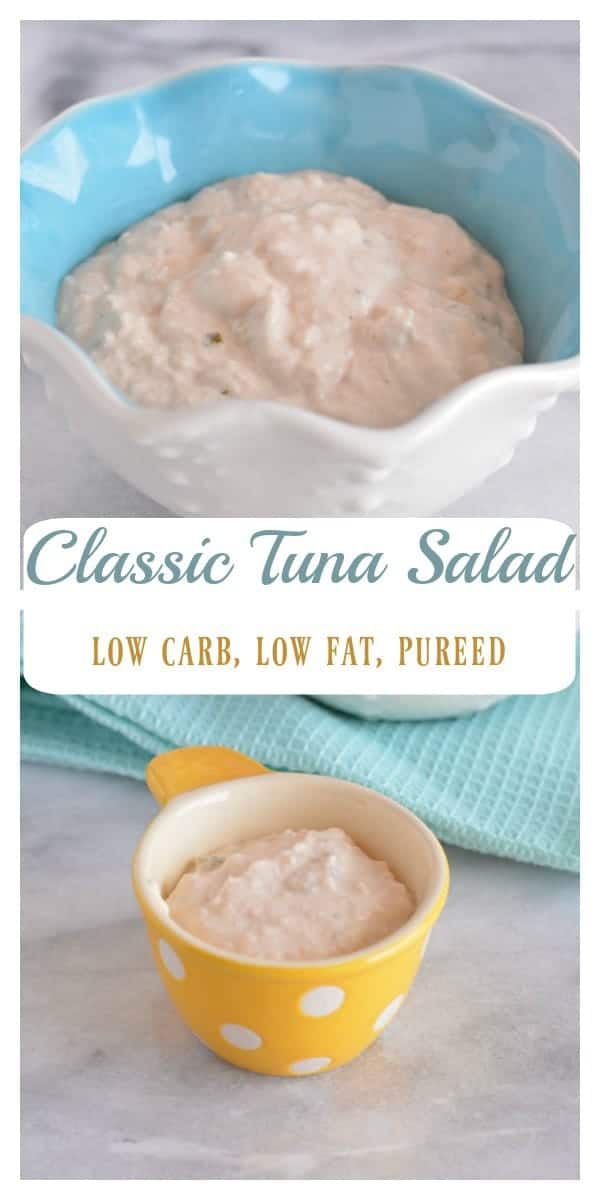 Other recipes you may enjoy!