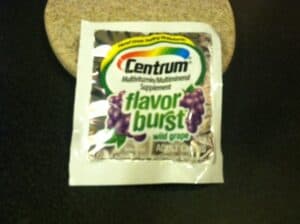 Just the other day I saw a photograph of vitamins a patient had ready for post surgery and to my dismay Centrum Flavor Burst was in the line up. When I first heard about Centrum Flavor Bursts my gut feeling was that they likely were not complete, but I of course went to the Centrum website to investigate.  The traditional Centrum Chewables,which has a very similar make up to the original centrum tablet, are now rather difficult to find on their website.  My guess is that the makers of Centrum are trying to push the chewable flavor bursts instead of the traditional Centrum Chewables.  This concerns me..
Bariatric surgery patients rely on chewable vitamins.  Although there are specialized vitamins made specifically for bariatric surgery patients, many still use Centrum Chewables.  The vitamin is inexpensive in comparison, has a low dosage, and can be found in many local stores.  The taste however of Centrum Chewables, as well as other chewable vitamins, is often not desirable.  So, when a new chewable vitamin comes out many bariatric surgery patients flock to it without knowing whether the ingredients are appropriate for them.  I don't blame patients for trying to find a better tasting supplement, but if supplements tasted like candy we would all overdose.  The first consideration should be the supplements composition.
The new Centrum Flavor Burst is similar to many of the gummie multivitamins out there: no iron, thiamin, riboflavin, niacin, calcium, or phosphorous.  Many bariatric surgery patients take additional iron and calcium, so this is not my biggest worry.  However, patients would need to add a B complex to make up for the lack of thiamin, riboflavin, and niacin.  I have seen thiamin deficiencies in both gastric bypass and sleeve patients taking incomplete multivitamins.  In my opinion I think it is definitely better for patients to get the nutrients they need from fewer supplements.  We find that the more supplements that are added the less compliant patients are.
The dosage for the Centrum Flavor Burst is 4 per day.  A gastric bypass patient would have to take 8 per day!  Average cost is $12.00 for a 120 count bottle (15-30 day supply) compared to $10.00 for a 100 count bottle (50-100 day supply depending on procedure) of centrum chewable.  So that would be $.40-.80 per day compared to $.10-.20 per day. This doesn't even take into consideration the cost of additional supplements needed if the Flavor Burst are used.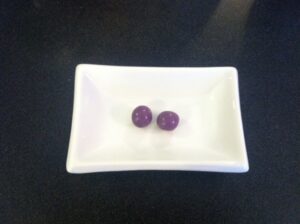 I tasted the sample that was mailed to me, which was ½ the daily dosage.  The grape flavored Centrum Flavor Burst tasted great.  They were not chalky and did not leave an aftertaste.  Definitely more palatable than other chewable multivitamins.
Bottom Line: tastes great, expensive, and not complete!