Having weight loss surgery is a big life change. Meal planning and prepping is essential for your new lifestyle. Here are the top 10 Must-Have Kitchen Tools for Weight Loss Surgery Patients.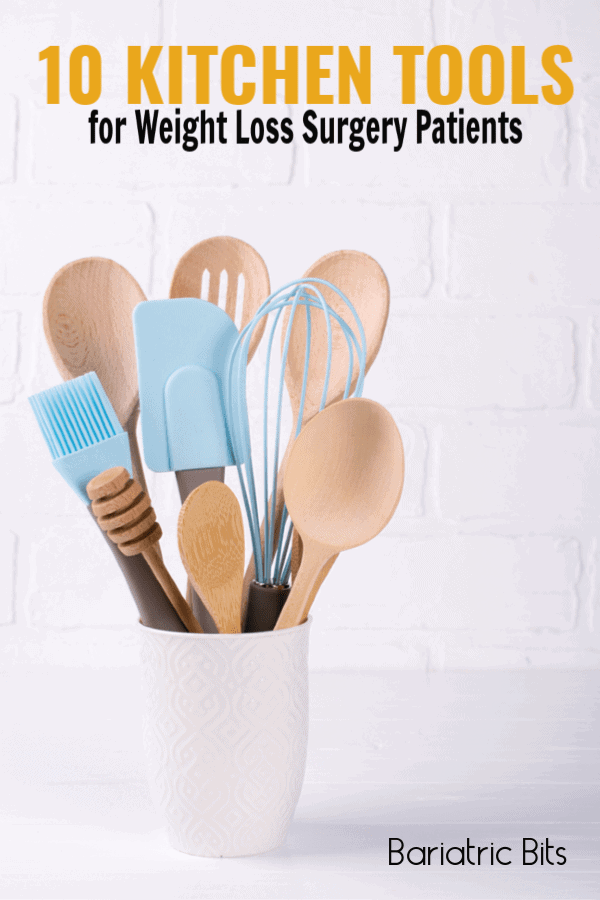 Measure Cups: Right after surgery you will want to measure out food to make sure you are consuming the correct amounts. Food should be measured in Dry Measuring Cups. Liquids should be measured in Liquid Measuring Cups
Food Scale: When you're able to eat more solid food, protein is best measured by weight. I love my Cuisinart food scale. Check out other food scales in a variety of price ranges online.
Blender: A strong blender will be helpful to blend soups and other food during the pureed food stage after surgery. Protein shakes also blend well in higher powered blenders. The Vitamix is an excellent choice (I have one), but a bit pricey. There are plenty of other blenders that are available in many price ranges.
Food Storage Containers: I love these 4 oz Wean Green Glass Baby Food Containers. Don't be intimidated by the fact that they're designed for baby food. In the early stages after surgery, you will be eating very small portion sizes. When you're able to eat bigger meals these divided meal prep containers are perfect.
Blender Bottle : I have a collection of blender bottles. This Blender Bottle Sport is my favorite because it has a little handle on the top. Blender bottles are useful when making protein shakes when you don't have access to an electric blender.
Water Infuser : So many patients tell me that they hate the taste of water. Adding fruit to your water is a natural way to flavor your water.
Inspiralizer: Zoodles are all the rage. You will likely be unable to tolerate much pasta (if at all). You can make your veggies looks like pasta! If you don't have room for the Inspiralizer you can find other vegetable spiralizers. in a variety of different sizes.
Slow Cooker: Crock-pots are not only helpful for meal-prep, but they cook meat in a way that is better tolerated by many weight loss surgery patients. Crock-pots come in a variety of sizes. If you're only cooking for yourself you may only need a 2-qt slow cooker. If you're cooking for yourself and your family you definitely need a larger slow cooker. Larger sizes range from 4qt-8qt. I have a big crock-pot that I received as a wedding gift. I really wish I had this Choose-A-Crock Programmable Slow Cooker, because you can make smaller and larger recipes with the same machine.
Ramekins: in early stages after surgery when your portions need to be very small, ramekins are useful for portioning out food or baking single-serve meals.
Portion Control Plate: Not everyone needs to use a portion control plate on a regular basis. If you find yourself eating bigger portions, a portion control plate is a helpful tool to help bring your portions under control. I have a few portion control plates in our house to use when needed.
Is there anything else that you would add to this list? Let me know in the comments!
Check out 15 Portion Control Tools for Weight Loss Surgery Patients